Buying "Cummings" at Sephora in Scottsdale, Arizona
In
June
I posted a photo of Alan Cumming's new fragrance, Cumming. I found it for sale on
Sephora
. But buying Cummings is about the most embarrassing thing I've ever done.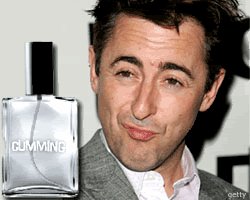 I walked in with my friend Gavin, just to see if they had it. It was more of a dare, but really, I had to do it. We walked all the way in, and towards the back. I've only been to the entrance of Sephora before, the store is laid out in a long gauntlet of aromatic shelves and the most absurd amount of make-up I've ever seen which is a lot because I know a few drag queens. We probably were not the first guys to walk in because I was attacked by sales women trying to sell me shit I didn't need. Seriously, I don't need Sean Paul Gautier perfume — I really don't.
I scurried into the back shelves, where the thankfully, the men's products were organized. Quickly I realized I was going to have to ask someone for help.
Shit.
I found a girl who didn't look intimating while Gavin conveniently hid behind some counter and played with cotton balls unbeknown to me.
"Excuse me, do you have Alan Cummings, new fragrance: Cummings?" I asked in my most friendly voice.
"Huh? HEY GIRLS, THIS GUY wants to know if WE HAVE a PERFUME called
CUMMINGS
?" she shouted across the store. I looked behind me, couldn't see Gavin and realized I was all alone with 10 women staring at me plus all the customers in the area.
I think I muttered a stream of profanities under my breath. I tried to control the situation a bit by saying I saw it online and that they did have it. But really, she just wanted to yell out "THIS GUY WANTS CUMMINGS" across the room. There wasn't anything I could have done to ease my pain.
Gavin reappeared a few moments later with a fuck'n amused smile on his face.
I forgave him soon after, he's a cute bastard. And the Sephora lady and I laughed for a while, too, before she confessed that her favorite part of the job is helping someone find a perfume called "Banged."
***
Check out the
Cumming
commercial, but maybe not at work.