Gay Frat Parties
Hip hop music booms across the courtyard today. The Latino Frat is promoting their organization again. "Latin" and "Frat" are not the most common words normally used together. Then again, "Gay" and "Frat" are not usually used together either but three groups at school can claim that one, too.
So what do these frats do other than play hip hop in front of the Student Union Building or watch TiVoed Queer As Folk and play drinking games? I have no idea, but I have some ideas.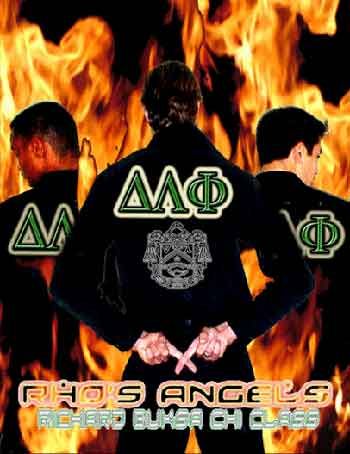 Gay Rush week:
Monday: Beauty night slumber party (bring your own pampering gels and lotions) meet and greet
Tuesday: Kegger Marti party
Wednesday: Gay.com blind hook-up double dare
Thursday: Scavenger hunt (from gay bar to gay bar) that ends with mandatory streaking in front of
Friday: 7 mintues in heaven/Spin the bottle with other Gay frats on campus
Saturday: Karaoke (read: impromptu skag drag shows) to Spice Girls, Britney, or Jill Scott, and JLo — bad performances will not be invited back
Sunday: Invitation only hot tub party sponsored by WET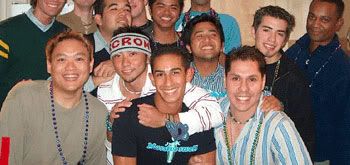 Latin Rush week:

Monday: La Raza potluck, meet-and-greet
Tuesday: Watch JLO videos at Roberto's house
Wednesday: DJ Raggeaton cook out
Thursday: Smoke out and stripper night (white girls only)
Friday: Celia Cruz festival (Anthony, the Frat president's older brother will be dress as Celia in drag complete with a white wig.)
Saturday: Lowrider show
Sunday: Invitation only Juanes concert
Now that I think about it, both are pretty gay. And gay, straight, Latino, or stereotypically white, all frats do have something in common: a love for JLo. And dragqueens.